Page 3 -- Newest Review Entries -- 2006-2007
Special headlines from the past

---
GASP® Virginia Group to Alleviate Smoking in Public, Inc.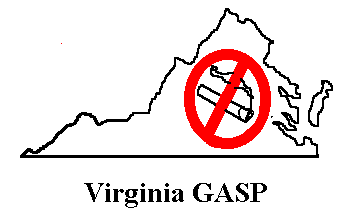 Updated 14 January 2008
---
For the 2008 Newest Entries, please see this link: http://www.gasp.org/NewestEntries.html

---
October 19, 2007


Philip Morris, the media notes, has launched its new research center to "reduce the harm" from tobacco products. Let's see -- if your product addicts and kills your consumers, how would you reduce that "harm"?





Let's see -- if Philip Morris really wants to reduce the addiction and deaths -- or some might say, murders -- of consumers, here's



A

few

very, very, very

obvious

ways to reduce the deaths of consumers world wide:

1. Stop all manufacture of cigarettes, smokeless tobacco, cigars, pipes, bidis, hookah pipes, and other tobacco products,
2. Stop all marketing of tobacco products,
3. At least eliminate nicotine (addictive factor).

But, by having an expensive, very visible "research" center, Philip Morris presumably can try to deflect the Mafia, gangster image of the power hungry corporation that apparently stops at nothing to continue to produce and market its addictive lethal weapons of mass destruction.

And presumably they can smile in court and say that they have changed, when in reality, is it not still evil at work, as usual? When a corporation's executives agree to continue to manufacture and market a product which they admit addicts and kills people, wouldn't that fit the definition of evil -- of being a murderer -- and would they then deserve to be tried in courts of law as murderers, perhaps before juries of people who have loved ones who have died from tobacco products?

Some years ago, scientists who used to work at Philip Morris in Richmond, Virginia, USA, noted that Philip Morris has a patent for nicotine-free tobacco plants -- but closed the door on that research. Philip Morris told scientists that they should find ways to reduce the cancer causing nitrosamines, but then closed the door on that research. And according to those scientists, Philip Morris fired some scientists who were working on "safer" cigarettes. Now, apparently, Philip Morris is re-playing history, with much pomp and circumstance. Some people would say one should put the emphasis on "playing" in the word, re-playing.

Below are excerpts about the 2007 hype for the new research center in Richmond, Virginia, USA, following on the heels of the closing of the Philip Morris International buildings in New York City.

EXCERPTS from

The Richmond (VA) Times-Dispatch

, October 19, 2007, headlined "

New Philip Morris research center has special mission; Goal is to develop tobacco products that are less harmful

"; writer John Reid Blackwell.
Almost nothing screams tobacco inside Philip Morris USA's new $350 million research and technology center in downtown Richmond.

Indeed, the nation's top cigarette company is allowing smoking only in designated areas of the building, a sleek structure dominating the skyline in the Virginia BioTechnology Research Park. But for the 100 people already working there, and the 400 others scheduled to move there in the next few months, tobacco and the harm it can cause is a top concern.
"The growth of this company is going to be driven by the development of innovative new products . . . and the work that we are doing to reduce the harm related to all of our tobacco products," company spokesman David Sylvia said yesterday during a tour of parts of the building for news media representatives. "The goal of building this facility here was to bring all of those people together so they could do that work in one place."
The people who are, or will be, working at the site include scientists, engineers, physicians and support staff, among others.
The building, attached to a 900-space parking deck by a skywalk, includes a fitness center, a cafeteria, a company store, a coffee shop and lots of common areas to stretch your legs and meet with colleagues. The company did not allow photography inside the building.
The center's first floor has a 50-seat lecture hall and a library designed mainly for electronic research, though its shelves include volumes on chemistry, neuroscience and cancer treatment and epidemiology, among others.
The design of the center and its amenities are aimed at fostering collaboration, creativity and innovative thought, Philip Morris officials said. The specifics of their work remains closely guarded. The company has provided little information about the kind of research it is doing, or the products it hopes to develop.
The new center will help Philip Morris USA accelerate its research, said Richard Solana, the company's senior vice president for research and technology. He would not comment on the company's research budget or when it might launch products.
"I am more confident that there will be a product on the market that reduces the harm from smoking," Solana said when asked how close the company is to introducing a reduced-risk cigarette. "Maybe it will be a cigarette, but maybe it will be something else."
Whatever the outcome, it is likely to face skepticism from public health groups and the wider scientific community.
"I think it's good that they are doing the research," said Thomas Eissenberg, an associate professor and behavioral pharmacologist at Virginia Commonwealth University whose research focuses on addictive substances such as tobacco.
"When they release research, they don't need to just release results, but we need to know every detail of the methods," he said. "That way the results could be replicated by nonindustry researchers."
Cigarette smoking causes cancer, heart disease and other illnesses, leading to more than 400,000 premature deaths a year in the United States. Tobacco companies have made numerous attempts at the so-called Holy Grail of the industry -- a cigarette that could be less harmful to health -- but those products have never gained consumer acceptance.
For that reason, some of the researchers working at the center are "sensory scientists," who study how consumers react to products. The building's third floor includes rooms for focus groups and consumer testing of products, using volunteers that company spokesman Bill Phelps said are older than 21 and tobacco users.
About one-third of the building's space is laboratories. Research also will focus on the health effects of tobacco products, but Phelps said there are no plans to have research subjects stay at the center overnight. The center also has the capability to do tests on rodents.
Philip Morris has recently entered the smokeless tobacco market, which is growing in the United States. It is test-marketing a traditional moist snuff product and a type of pouch tobacco called snus. That could suggest the company's research is focused on new smokeless products, but Solana said it has a "balanced portfolio of research" between cigarettes and smokeless products.


---
October, 2007:

Latest update on the Engle litigation, October 2007,
Decision handed down from the United States Supreme Court, rejecting tobacco industry pleas to "prevent smokers in potentially thousands of Florida lawsuits from taking advantage of jury findings against the industry." [Bloomberg]
---
September 26, 2007, and continuing through the end of 2007:
ALERT -- to call/write the Marriott Hotels re.

their decision to violate their own no-smoking policy by allowing cigar smoking in a New York City hotel.




The Marriott Hotels had announced in 2006 that all their USA and Canadian hotels would be completely no-smoking, in rooms, lobbies, banquet halls, everywhere in the hotels.

Quoting from the Marriott's July 2006 news release:

"Creating a smoke-free environment demonstrates a new level of service and care for our guests and associates," said J.W. Marriott, Jr., chairman and chief executive officer of Marriott International. "Our family of brands is united on this important health issue and we anticipate very positive customer feedback."
Wonderful!
This new policy has allowed smokers and nonsmokers, customers and employees, to breathe smokefree air while in the hotels!
Bill Marriott stated in a February 2007 blog about the clean air move,

"Taking good care of our employees has been the hallmark of Marriott's success ever since we were founded by my mother and father 80 years ago this year. We've learned that when you take good care of your people, they take good care of the customers, and they keep coming back."
BUT -- then came a full page ad in the

New York Times

on September 18, 2007, and in later editions, announcing a November 2007 "Big Smoke" event of a cigar magazine, to be held in the banquet room of the New York City Marquis Marriott Hotel.
Contrary to their stated smoke-free policy, the Marriott WILL allow smoking -- cigar smoking -- in this banquet room for that cigar event on November 20, 2007,

exposing all the Marriott employees, who must serve and clean that room, to cancer causing chemicals and hazardous particulate matter, and exposing employees and customers who use that room days and weeks after the event.
Persons who have called the Marriott have been told that the official policy is that the Marriott has hosted this event in the past, has a permit from the city of New York to allow it, and they will have air filter equipment set up. HOWEVER such equipment is not sufficient to protect employees and customers from tobacco smoke.
PLEASE, call and/or write Bill Marriott and the Marriott board of directors
PHONE: 1-800-621-0999
FAX to Bill Marriott: 1-301-380-3734
Please let him and the hotel directors know that:
(1) You appreciate the original act of going 100% no-smoking in any part of the USA and Canadian hotels, as this protects the health of all customers and employees,
(2) But, with their decision to make this recent big exception, they have violated their word, and the trust established with employees and customers, so that,
(3) Who knows when they will violate that trust on this OR ANY OTHER ISSUE again?
(4) The Marriott apparently is knowingly allowing harm to befall all employees who serve and clean that banquet area, and that room will be a danger to employees and customers for days and weeks after the cigar event. That hotel will no longer be smoke-free.

---
July 2007 -- Dylan Boeken, son of Richard Boeken, has won against Philip Morris, which sought to have a trial on all issues.


EXCERPTS from Reuters, June 21, 2007, headlined, "Anti-smoking efforts have big impact: expert", writer, Julie Steenhuysen.
Aggressive efforts to curb smoking led to a sharp drop in the number of smokers in New York City in the past few years, U.S. health experts said on Thursday.

Just 17.5 percent of adults in New York smoked last year, down from 21.6 percent in 2002, after the city brought in higher taxes, smoke-free environments and tough-talking educational campaigns, according to the U.S. Centers for Disease Control and Prevention.

That followed a decade of no progress in the fight to reduce smoking.

New York started its crackdown on smoking in 2002, when it hiked taxes on cigarettes to the highest level in the United States at the time, boosting the retail price by 32 percent per pack. In 2003, it established smoke-free workplaces.

Both measures proved effective and, by 2004, the percentage of adult smokers fell to 18.4 percent.

When smoking rates stalled a bit in 2005, the city ran a year-long television campaign to motivate more smokers to quit.

That resonated with men and Hispanics, with smoking rates falling to 19.9 percent from 22.5 percent among men between 2005 and 2006. Smoking among Hispanics fell to 17.1 percent from 20.2 percent in that period.

"These findings confirm the importance of comprehensive tobacco-control programs and suggest that this intensive, broad-based media campaign has reduced smoking prevalence among certain groups," the CDC said in its weekly report on death and disease.

By 2006, there were 240,000 fewer smokers in New York City than there were in 2002, a change that could prevent at least 80,000 smoking-related deaths, the CDC said.

New York's success comes amid a wave of efforts across the United States to create smoke-free environments such as workplaces, bars and restaurants that curb exposure to secondhand smoke.

Tobacco use remains the leading cause of preventable death in the United States, with 435,000 deaths, or 18 percent of all deaths, due to smoking, according to the CDC.

---
June 11, 2007 U.S. Supreme Court unanimously decided against Philip Morris -- Lights cigarette lawsuit must go to state, not federal, courts.

---
June, 2007

Colorado has a new law to require all casinos to be 100% no-smoking on January 1, 2008.

Congratulations to GASP of Colorado and all others who worked for this.
Casino employees, as well as customers, deserve the right to breathe air free from smoke.

EXCERPTS from

The Denver [Colorado] Channel

[7], June 1, 2007.
It's official, Colorado casinos will be going smoke-free on Jan. 1 [2008]. Gov. Bill Ritter signed that bill into law ... Friday afternoon. House Bill 1269 expands the statewide ban to include casinos, which had been exempt. The bill covers the 44 casinos in Black Hawk, Central City and Cripple Creek starting Jan. 1. Smoke-Free Gaming Association of Colorado had pushed for closing the loophole in the smoking ban.
---
May, 2007, Virginia author Roman Richards has written a smoking cessation eBook,

Forever NonSmoker, The Revolutionary Method for Becoming and Remaining a Nonsmoker.
---
May, 2007: The Reynolds American 2007 shareholder meeting was held May 11, 2007 in Winston-Salem, North Carolina, USA, in a no-smoking auditorium. Activists attended the meeting and spoke out.

In addition:
Please Note: At the 2007 Reynolds American
shareholder meeting on May 11, 2007, in Winston-Salem, North Carolina, reported above, CEO Susan Ivey listed a set of "Beliefs", one of which begins, "We believe that nicotine is addictive ..." So, while Susan Ivey was stating the company's "Beliefs", the company lawyers were demanding a mental health exam be given to an RJR customer who states she was addicted to RJR cigarettes which contain nicotine.
---
May 2, 2007: A California jury has found

Philip Morris and R.J. Reynolds liable for the wrongful death of Leslie Whiteley from lung cancer at the age of 40

. Compensatory and punitive damages of $2.5 million have been awarded to the Whiteley family. See

http://www.tobacco.neu.edu

.
---
April, 2007: The Philip Morris -- Altria -- 2007 meeting was held April 27th 2007, in East Hanover, New Jersey, USA, in smoke-free surroundings. More than 100 activists spoke out at the meeting and in demonstrations inside and outside the building.
Three health resolutions were among the five resolutions presented --

regarding the legal rights of children exposed to secondhand smoke, on ineffective campaigns of Philip Morris to prevent youth from smoking, and asking the company to get out of the traditional tobacco business by 2010.

The text of these resolutions, and the Philip Morris response opposing them is given in this web site, along with questions asked of the CEO.

---
April, 2007: Virginia Governor Timothy Kaine has vetoed the HB 2422 bill of Morgan Griffith. This is good news for health, since this bill removed part of the protections in the Clean Indoor Air Act, replacing it only with a requirement to post a Smoking Permitted sign if smoking in restaurants was allowed by the owner. Health regulations are not normally left to the whim of a manager, but are determined statewide in order to protect the employees and the customers of all ages.
Virginia GASP's Hilton Oliver was quoted:


The Daily Press

, writer Larry O'Dell, Associated Press:

Hilton Oliver, executive director of the

Virginia Group to Alleviate Smoking in Public

, denounced the legislation [HB 2422] as a retreat from the public health safeguards of the 1990 Clean Indoor Air Act.
"All this says is we're revoking part of this state law as long as you put a sign on the door," Oliver said in a telephone interview. "It's idiocy."
Mark Twain, or another fine author, once said, "When the end of the world comes, I hope to be in Virginia, because everything happens there 50 years later."
---
According to

The Washington Post

, March 15, 2007, in Virginia, the Alexandria city council is considering using a loophole in the state law, use permits, to require all restaurants and bars that register in Alexandria to be completely no-smoking. Virginia state law allows any business to be smoke-free, and has some basic minimum requirements, but localities are not allowed to make laws stricter than state law.

---
Restaurant/Bar smoking ban in Colorado working well
From The Denver Channel, March 15, 2007:

Eight months into Colorado's statewide smoking ban, patrons and staffers say it's changing the look of the "sports bar"
at this popular time of year for the hoop-addicted.

"We sold about 15 percent more food at the restaurant, which is a pretty significant increase for any restaurant,
I would think," said Matthew Brown, manager of the Cherry Cricket in Cherry Creek North.

"A lot more families (are) coming in now. Which, sometimes smoking would

 

curtail the families from coming in in the past. 
And so, it's a welcome environment for everybody now. (It's) Not just the bar crowd."
---

Excerpts from

The Boston Globe

, February 10, 2007, headlined, "

Cancer risk of those not smoking is calculated

," writer, Maggie Fox, Reuters.

Up to 20 percent of women who develop lung cancer have never smoked, US researchers found
in a study that suggests secondhand smoke may be to blame.
Writing in yesterday's [February 9, 2007] issue of the Journal of Clinical Oncology, [Dr. Heather] Wakelee and epidemiologist Ellen Chang said they tracked the incidence of lung cancer in more than 1 million people [in the USA and Sweden] ages 40 to 79. All had taken part in various studies of diet, lifestyle, and disease, some going back into the early 1970s.
Some groups were mostly white women, such as those in an ongoing nurse's study, while others included ethnically diverse groups, Wakelee said.
Among the women who never smoked, the lung cancer rate ranged from 14.4 to 20.8 cases per 100,000 women a year. In men, it was 4.8 to 13.7 per 100,000.
---
February 2007 -- The announcement has come that Daniel Radcliffe, aka Harry Potter, will be smoking in a stage play in England. This will be harming Radcliffe, everyone near him, and providing great advertising for the tobacco industry, possibly luring many young fans into smoking. If he is to simulate blinding a horse, and simulate intercourse with a young girl, surely he could simulate smoking as well, since the script calls for the smoking as a "bond" between him and his psychiatrist.

---
February 2007: The University of Virginia has become a "partner" with "adjudicated racketeer" Philip Morris, accepting a gift for "medical research" of $25,000,000. Mike Szymanczyk, CEO, Philip Morris USA, said at the ceremony binding the deal:

"Philip Morris USA and the University of Virginia are announcing a $25 million partnership that we believe has the potential to reduce the harm caused by smoking.

The majority of the funds, approximately $20 million, will support research and projects at the University intended to reduce the harm caused by smoking, help prevent youth smoking, improve the effectiveness of smoking cessation efforts and provide support for independent evaluation of Philip Morris USA programs in these focus areas.


The remaining $5 million will support the expansion of Philip Morris USA's relationship with the McIntire School of Commerce."


GASP Note:

Please note that if Philip Morris, Altria, really wanted to reduce the harm caused by smoking, and to keep kids off tobacco, they would do a number of responsible things, such as eliminate marketing and advertising, eliminate nicotine and other deadly components of their products, and be responsible enough to stop making cigarettes and smokeless tobacco altogether, since, as they have stated, it does addict and kill consumers. Research is not independent when funded by tobacco companies.



Also, please note, that, as Edward Sweda (Tobacco Product Liability Project,) has stated,

At page 1478 of Judge Gladys Kessler's August 2006 Final Opinion, Judge Kessler found that the tobacco defendants, including Philip Morris, and Reynolds American,

"suppressed, concealed and terminated scientific research" and "destroyed documents including scientific reports and studies," over the course of approximately 50 years. This conduct constituted a separate violation of the Federal anti-racketeering statute, RICO.



Therefore, it is quite ironic indeed that the president of a university which is presumably dedicated to higher learning and valid scientific research, would enter into a

partnership with an adjudicated racketeer to support "independent" research.
---
20 February 2007 The U.S. Supreme Court in a 5-4 decision in the Jesse Williams case, Oregon, overturned the punitive damages award, but did not address the size of the award or adversely affect punitive damages as a function of the civil justice system.
In a dissenting opinion, Justice Paul Stevens wrote:
A murderer who kills his victim by throwing a bomb that injures dozens of bystanders should be punished more severely than one who harms no one other than his intended victim. Similarly, there is no reason why the measure of the appropriate punishment for engaging in a campaign of deceit in distributing a poisonous and addictive substance to thousands of cigarette smokers statewide should not include consideration of the harm to those "bystanders" as well as the harm to the individual plaintiff. The Court endorses a contrary conclusion without providing us with any reasoned justification.

15 February 2007 The California [USA] Supreme Court unanimously dismissed "the peculiar notion that the addiction that usually occurs within weeks of smoking initiation marks the start of the 2 year statute of limitations for filing a personal injury claim." Quoting from

http://www.tobacco.neu.edu

.

Justice Moreno writes:
We reject the proposition advanced by defendants, based on

Soliman v. Philip Morris, Inc.

(9th Cir. 2002) 311 F.3d 966 (

Soliman

), that the statute of limitations should have commenced on the physical injury claims as soon as Grisham discovered or should have discovered she was addicted to cigarettes.

17th August, 2006 --

U.S. District Judge Gladys Kessler ruled that Philip Morris, Reynolds American, and other tobacco companies violated racketeering laws, they deceived the public about the hazards of smoking, and in future they must not participate in any racketeering, they must not make health claims for their products, such as the use of the terms "light" and "low tar", they must publicly acknowledge the hazards of secondhand smoke, and make documents from the trial available on their web sites through 2016. For detailed commentary, please see

http://www.tobacco.neu.edu/



Sharon Eubanks, the former head of the United States tobacco litigation team, commenting on the tobacco companies, was quoted in an

Associated Press

story 8/17/06:

"We won. It's clear the government won. This is the first time they've been found to violate the racketeering statute. For crying out loud, that's significant. They're racketeers."



6th July, 2006 -- Decision from Florida Supreme Court re. the Engle case

Statement from the Tobacco Product Liability Project, and for updates on the Engle case, TPLP: "Few expected the $145 billion punitive damages award to survive appeal. Yet the real key to understanding the decision lies in the Court's use of the Latin phrase

res judicata

, meaning that

the issue has been judged.

The

Court's findings that cigarette manufacturers are negligent and that their products are defective, unreasonably dangerous, addictive, and the cause of 16 major diseases will carry over to individual claims for compensatory and punitive damages by upwards of 100,000 class members. At trial, these class members will need only prove individual medical causation and reliance on any acts of fraud that may be alleged.

We expect tens of thousands of streamlined cases to be filed in Florida by this time next year."

2nd July, 2006 -- The Difference One Person Can Make

27th June, 2006 -- Release of the new USA Surgeon General's report on secondhand smoking -- there is no doubt whatsoever that secondhand smoking will hurt and kill -- all workplaces should be no-smoking. The web site to access the information is http://www.surgeongeneral.gov/library/secondhandsmoke/

22nd May, 2006 -- Death of Heather Crowe, only 61, a Canadian waitress for about 40 years, who died of secondhand smoking from her job. She became an eloquent spokesperson fighting to be the "last Canadian to die of secondhand smoking." She had hoped to see the May 31st beginning of a smoke-free Ontario. Thank you, Heather, for speaking out to save all our lives.

8th May, 2006 --

On the one hand R.J. Reynolds, a division of Reynolds American, in April filed suit against the state of Washington over its new law that prohibits giving free tobacco samples in adult only places; but on the other hand RJR has agreed to pay $5 million to the state of California to settle a lawsuit against RJR for distributing 100,000 free packs of cigarettes on public property.

The trial court had imposed a $14.8 million fine, but RJR appealed. Edward L. Sweda, Jr., senior attorney with the Tobacco Product Liability Project, noted, "RJR's willingness to pay the $5 million, including $3.1 million in a civil penalty, is a clear admission of wrongdoing, notwithstanding its words to the contrary. Moreover, RJR's intent to engage in business as usual regarding the marketing and promotion of its deadly and addictive product is further proven by its attack on [the state of] Washington's newly-enacted anti-sampling law."

---
---
Dr. K. Heinz Ginzel, in reviewing the Philip Morris web sites, noted:
The situation appears to be totally grotesque, bordering on the obscene, in that there is a manufacturer who admits its merchandise harms and kills, yet continues to advertise and sell it at home and abroad, and to harvest the world's children as customers to secure future profits.

The fact that PM was able to do this with impunity, and by preserving the status quo of conducting "business as usual" without even the least objection by government or society, reflects the depth of social morass and the moral abyss of disintegrating values into which this civilization has plunged.
---
---
Breathing is necessary for life!
Smoking is optional --
breathing is not optional.
And breathing is still
a very popular thing to do!
---
Virginia Group to Alleviate Smoking in Public, Inc., GASP®
A non-profit organization, all volunteers

Contact information:
4856 Haygood Road, #102
Virginia Beach, Virginia 23455, USA
1-757-490-0126

"... to know that even one life has breathed easier because you have lived --
this is to have succeeded."

R. W. Emerson

---

Updated 14 January 2008
---
This web site is hosted by Flamingo Internet Navigators.

---